What To Put in Your Commercial Building's First Aid Kit
4/22/2022 (Permalink)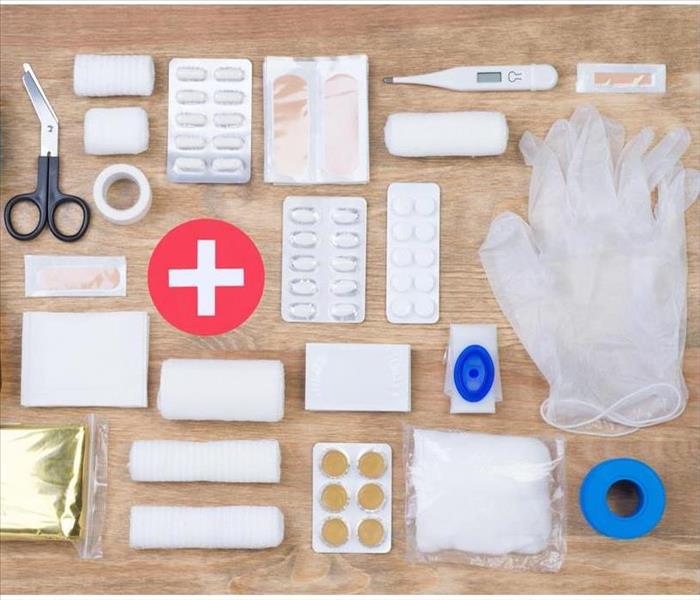 OSHA-compliant kits must include a box of Band-Aids, a splint, latex gloves, a pair of tweezers, and scissors.
What to Include in the First Aid Kit of Your Commercial Building
Every commercial building owner needs a first aid kit. In fact, the Occupational Safety and Health Administration requires businesses to keep one of these kits on the premises at all times. The items in the kit can be used to treat a variety of injuries, such as:
Cuts

Sprains

Scrapes

Burns


While these types of ailments can occur at any time, they are particularly common during storms and other emergencies. Making sure your kit is fully stocked is thus a key part of disaster preparation. Below are some important items you should purchase for your kit.

Basic Essentials
No matter what type of business you own, OSHA-compliant kits must include a box of Band-Aids, a splint, latex gloves, a pair of tweezers, scissors, adhesive tape, disinfecting pads and two triangular bandages.

OSHA also requires other items that may not immediately come to mind. For instance, you need to put a blanket in your first aid kit. This could keep a hypothermic employee warm during a winter storm before first responders and emergency restoration professionals arrive at the scene.

In addition, you may not know that the gauze in your emergency kit needs to be a certain size. To meet OSHA regulations, the tape must be at least 2 inches wide, and the pads must include 4-by-4 inch and 8-by-10 inch varieties.

Business-Specific Items
You may also want to put items in your kit that your specific business could need. For instance, if you own a childcare center, you can pack kid-friendly bandages and adhesive tape for dressing infant cuts.

Meanwhile, if an earthquake or windstorm hits a restaurant, hot food could go flying and cause severe burns. If you own an establishment that serves food, you should thus keep plenty of burn dressings in your kit.

A storm can cause lots of damage to your East Concord, CA, property. The shattered glass and broken desks could injure your employees, as well. With a full first aid kit, you can provide immediate medical assistance to hurt workers until help arrives.